Fellows Flyer
Notes from Our Fellows in the Field
May - June 2017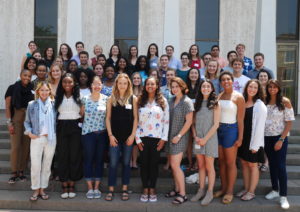 Dear Friends,
The placement process is now complete and we would like to welcome our 2017-18 fellowship class! This year's fellowship class consists of 48 Fellows, who will be working with 31 organizations in 13 countries across the African continent.
June has been a month of reflecting on PiAf's past and welcoming the future! Earlier this month, we celebrated with PiAf alumni and friends during Princeton Reunions Weekend. The weekend after Reunions, we joined together with the 2017-18 fellowship class for the Princeton in Africa Orientation on Princeton's campus. Check out pictures from orientation on our Facebook Page!
This issue of the Fellows Flyer includes an article about Alumni Emily Moder, 2013-14 Fellow with access:energy in Kenya, by SteamaCo's CEO & Co-Founder Harrison Leaf. Harrison discusses how Emily's fellowship with access:energy played an important role to the growth of SteamaCo.
We hope you enjoy this edition of the Fellows Flyer!
Warm regards,
Jodianna Ringel
Executive Director
PiAf Connections
Please click below to check out pictures of our Fellows, Alums and other members of the PiAf family meeting up at home and around Africa.