Fellows Flyer
Notes from Our Fellows in the Field
May - June 2016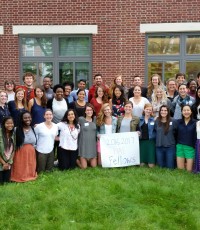 Dear Friends,
It's official: we've placed our newest 2016-17 fellowship class! Check out the Current Fellows page of our website to learn about this year's 49 Fellows, who will be working with 31 organizations in 15 countries across the African continent.
In late May, we enjoyed connecting with PiAf friends old and new (including board members, alumni, and new Fellows and their family members) during Princeton's annual Reunions weekend. The following weekend, we welcomed our 2016-17 Fellows at their orientation on Princeton's campus. You can see more photos of PiAf's Reunions events and Fellows' Orientation on our Facebook page.
This month's Fellows Flyer includes a Supporter Profile of Daniela Kaisth of Gratias Partners. Daniela is a longtime PiAf board member who has provided invaluable support to our organization over the years. Many thanks as always to Daniela and all those who make our remarkable fellowship program possible.
We hope you enjoy this edition of the Fellows Flyer!
Warm regards,
Jodianna Ringel
Executive Director
P.S. Our 2016 newsletter is here! View it on our website to read articles written by our Fellows, updates on where our alumni are now, and news about all things PiAf.
PiAf Connections
Please click below to check out pictures of our Fellows, Alums and other members of the PiAf family meeting up at home and around Africa.