January/February 2023
Dear Friends of PiAf,
I hope this edition of the Princeton in Africa Fellows Flyer finds you well. This month, we are sharing the stories of current Fellows Elena Daniel (Baylor International Pediatric AIDS Initiative, Eswatini), Nasya Blackwell (Emerging Public Leaders, Ghana), Sarah Louis (Kakenya's Dream, Kenya) and Esther Alaran (African Leadership Academy, South Africa).
Elena reflects on her proudest accomplishments with BIPAI so far: serving as the lead grant writer for a USAID proposal, implementing a network-wide wellness program that encourages BIPAI staff to incorporate more physical activity into their routine, and more. Read her full entry to see a glimpse into her life in Eswatini- where she makes time to enjoy the country's natural beauty.
Nasya shares about her communications and social media work at EPL, taking on more work responsibilities, and her experience returning to Ghana for a full year after studying abroad there in 2019. She loves immersing herself in the local culture in Accra, attending traditional events and celebrations, and building a community.
Sarah at Kakenya's Dream in Kenya shares that she is developing an internal curriculum that is holistic, beneficial to the girls at Kakenya's Dream and complements Kenya's national curriculum. She's happy to have met up with other PiAf Fellows in Nairobi. Read her flyer submission and learn more about her work with Kakenya's Dream on our impact stories page.
Esther writes about living and working in South Africa, working to implement renewable energy at the African Leadership Academy, finding the right consultant and service provider to meet the challenge of load shedding (power cuts) in Johannesburg and more. Read about Esther's love of the arts and visiting neighboring countries.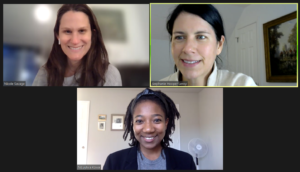 Thank you to members of the Princeton in Africa community who volunteered their time to interview candidates for the 2023-2024 fellowship year. Over 50 members of our alumni body and Board of Directors joined PiAf staff in interviewing over 200 candidates. Good luck to our fellowship candidates!
In a few weeks, PiAf staff, alumni coordinators, board members and the 2022-23 fellowship cohort will meet in Zanzibar for the 2023 Leadership Retreat. Our Fellows will gather to reflect on their fellowships, discuss the next steps and opportunities once their fellowships conclude, and build a stronger community. Princeton in Africa will host events that promote African thought leadership, explore professional opportunities on the continent and encourage networking between our Fellows, alumni, network, host organization partners, and those interested in our program.
Thank you for following along on our Fellows' journeys. We look forward to sharing details about our 2023 retreat in Zanzibar. Please be sure to subscribe to our Fellows Flyer and our Bimonthly newsletter so you won't miss updates on our program! Be sure to follow us on our social media platforms. On Instagram, Fellows will be sharing details about their daily lives and we will share highlights of our time in Zanzibar.
LinkedIn | Twitter | Instagram | Facebook | Youtube
Ward Regards,
The PiAf Team
PiAf Connections
Please click below to check out pictures of our Fellows, Alums and other members of the PiAf family meeting up at home and around Africa.