March/April 2023
Dear Friends,
We hope this edition of the Princeton in Africa Fellow's Flyer finds you well. Happy spring! Our 2022-23 Fellows are more than halfway through their fellowships, and we are currently in the placement process for the next cohort. We look forward to welcoming our incoming 2023-24 Fellows later in the year.
Early in March, we had the privilege of gathering our 2022-23 Fellows in Stone Town, Zanzibar for a mid-year Fellows' Leadership Retreat. We hosted many of our sessions at the East African Kiswahili Commission, explored cultural and historical landmarks in Stone Town, helped prepare a homemade Zanzibari meal, and so much more. Read more about our time in Zanzibar here, and follow us on social media to see more highlights. We're proud of the tight-knit community our Fellows have created and happy to help them develop their professional and leadership skills, and reflect on their post-fellowship goals. Read more about the sessions we conducted here.
We're also proud to share that Aishwarya Rai & Kyilah Terry, our 2022-23 Fellows placed at the International Rescue Committee in Nairobi, Kenya, had the chance to meet David Miliband, President and CEO of the International Rescue Committee. The IRC is Princeton in Africa's oldest host organization partner; we have placed 110 Fellows with IRC offices based in 14 African countries/regions. Aishwarya & Kyilah have done exceptional work in their posts. Read more about a recent article they co-wrote that was published by Migration Information Source.
In this edition, Maya McHugh describes her love of working for the Rwanda School Project at Rwamagana Leaders' School in Rwanda. It has been inspiring for her to work with students, staff, and her co-Fellow Lauryn Spinetta on a variety of exciting projects!
Matthew Fuller also describes his fulfilling work at the Foundation for Community Development and Empowerment in Uganda. He has grown professionally by taking initiative and contributing to the growth of the organization, and he's proud of the relationships he has built with his co-workers.
Michael Rivera details his life in and out of the classroom at the African School of Economics in Benin. He is an English teacher, helping to develop his student's communication skills in an international workplace. He also enjoys practicing and performing music! Michael recently gave a lecture and performed a piano solo at the 2022 Lomé Piano Festival.
Finally, Elebetel describes her work at Equal Education in South Africa, where she collaborates with the communications department and fundraising team. She has enjoyed exploring South Africa and meeting up with her fellowship cohort in Zanzibar.
Princeton University reunions begin in late May, and Princeton in Africa will be hosting a Post P-rade event on May 27th at 4 PM in the Julis Romo Rabinowitz Building Room 399 Ruehl Family Room. More information to come, but be sure to RSVP here. Reunions are a great way to meet PiAf alumni, share your experiences, interact with PiAf board members and staff, and learn more about the future of our program.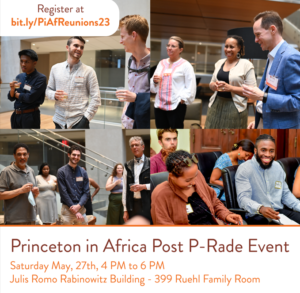 Read on to hear from our Fellows directly, and be sure to stay connected with PiAf so you don't miss upcoming announcements or newsletters.
Warm Regards,
The PiAf Team
PiAf Connections
Click below to check out pictures of our Fellows, Alumni and community meeting up across the U.S. and Africa.